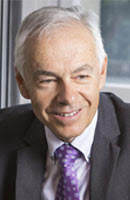 Grisel Dennis
Lic. ès. sc. éco.
F&P Group
Tél. +41 32 321 30 38
Fax +41 32 323 18 79
d.grisel@fp-group.ch
"Denis Grisel joined the F&P Group in 2017 for which he advises in particular companies within the framework of their international projects, in terms of business succession and, in general, in the context of projects related to the management of their business". He has been director of the Bern Economic Development Agency from 1996 to 2017. His tasks include endogenic support, i.e. supporting existing companies and start-ups with their innovation and expansion plans, and exogenic support, whose aim is to raise awareness of the Canton of Berne as an attractive company location abroad – in the United States, Brazil, China and Europe – and to achieve the establishment of new companies in the Canton of Berne.
Denis Grisel holds a degree in economics from the University of Neuchâtel (Switzerland) in 1974.
In 1976 he joined the Bern Economic Development Agency, where his tasks included
1976 to 1980: managing economic infrastructure projects and expansion project of companies within the framework of regional development programmes
1980 to 1996: he was appointed as deputy head of the Bern Economic Development Agency. In this capacity, he was responsible of the development of the industrial region Jura-Biel-Seeland. These activities incorporated two areas, on one hand the infrastructure and Berne based companies, and on the other to hand he build up an acquisition organisation and presence abroad, in Europe and in the United States to promote the region as an attractive location for international companies
In 1996 Denis Grisel took over management of the Bern Economic Development Agency of the canton of Berne. With its million inhabitants, Bern is Switzerland's second largest Canton. His duties include
Acquisition support in Europe, in the United States and China, the management of the staff employed in these areas to encourage companies to establish branches in Berne.
Service support is one of the core aspects of his activities. It includes a point of contact with a staff supporting Berne based companies and start-ups in their innovation and expansion projects. The aim of these activities is to offer the companies help with the necessary administrative steps.
Denis Grisel also coordinates activities in the field of technology transfer through support for be-Advanced, a company whose job is to provide initial technological advice to SMEs and "Cluster" associations in the areas of medical technology, telecommunication, precision industry and services. From 2012 – 2013 he was President of Greater Geneva Berne Area
Denis Grisel is to date member of several Boards of Trustees and Boards of Directors:
Member of the Board of Director of Switzerland Innovation Park Biel/Bienne Ltd
Member of the Board of FAJI SA
Member of the Board of the International School of Bern Foundation
President of the Foundation "Forum du bilinguisme"
Our newsletters
---
(PDF files to download)